What is chiropractic?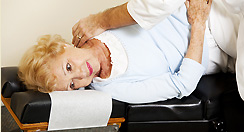 The General Chiropractic Council (GCC) defines chiropractic as "a health profession concerned with the diagnosis, treatment and prevention of mechanical disorders of the musculoskeletal system, and the effects of these disorders on the function of the nervous system and general health".
Emerald chiropractic's main goal is to get you and your loved ones back to good health this includes being pain free, improving your bodies function and improving your general well being.
We use a range of techniques which primarily focuses on manipulation of the spine. Life style advice will be provided which will be tailored especially for you in order for us to be able to reach your personal health goals in a realistic yet achievable manor.
We use a range of chiropractic techniques including:
Diversified
Sacro-occipital techniques
Activator
Kinesiotaping
Deep tissue massage techniques
Acupuncture
Chiropractic is safe and effective for the whole family. If you are not sure if Chiropractic is the right option for you, please contact us for more information.
Find interesting articles on chriorpactic, food, exercise, health tips and much more on our new Blog!
Our Services
Common complaints
Lower back pain
Upper back pain
Neck pain
Shoulder pain
Elbow pain
Wrist pain
Headaches
Migraines
Hip pain
Knee & ankle pain
Numbness, tingling, and pins & needles
Tension & stress
Whiplash injuries
Sports injuries